Ingredients
6 sea scallops
1 russet potato
1 cup of water
1 cup of chicken stock
2 garlic clove
Thyme – 6 – 10 sprigs
4 tbsp of butter
Salt and pepper
Splash of lemon juice
The potato sauce
Peel the potato and dice it into small, evenly sized pieces. Place the diced potato into a pot and add 1 cup of chicken stock and 1 cup of water. Bring to a boil and cook potatoes until done — using a small knife, you should be able to pierce the potato with no resistance.
Remove the pot from the heat when the potatoes are cooked, then strain them out and save the stock-water mix for later use. Place the potatoes back in the pot but not over direct heat, yet.
First, while the potatoes are still hot, mash them until all major clumps have disappeared. Then fold in 2 tbsp of butter until it mixes into the potatoes. Add the thyme and one whole garlic clove gently mashed.
Place the pot over medium-low heat and add the stock-water mix you saved when straining out the potatoes. Add the liquid back in slowly while stirring. Add a little at a time until the sauce has the desired consistency — it should be creamy like a thick sauce.
Add a splash of lemon juice and let the sauce simmer for 5 to 10 minutes while occasionally stirring it. Add more stock-water mix as needed to maintain the desired consistency. Add salt and pepper to taste. Remove the thyme sprigs and garlic before serving.
Optional: If you have an immersion blender, you can use it after removing the thyme and garlic to smooth out your sauce. After using the immersion blender the sauce will look silky smooth, like the picture below.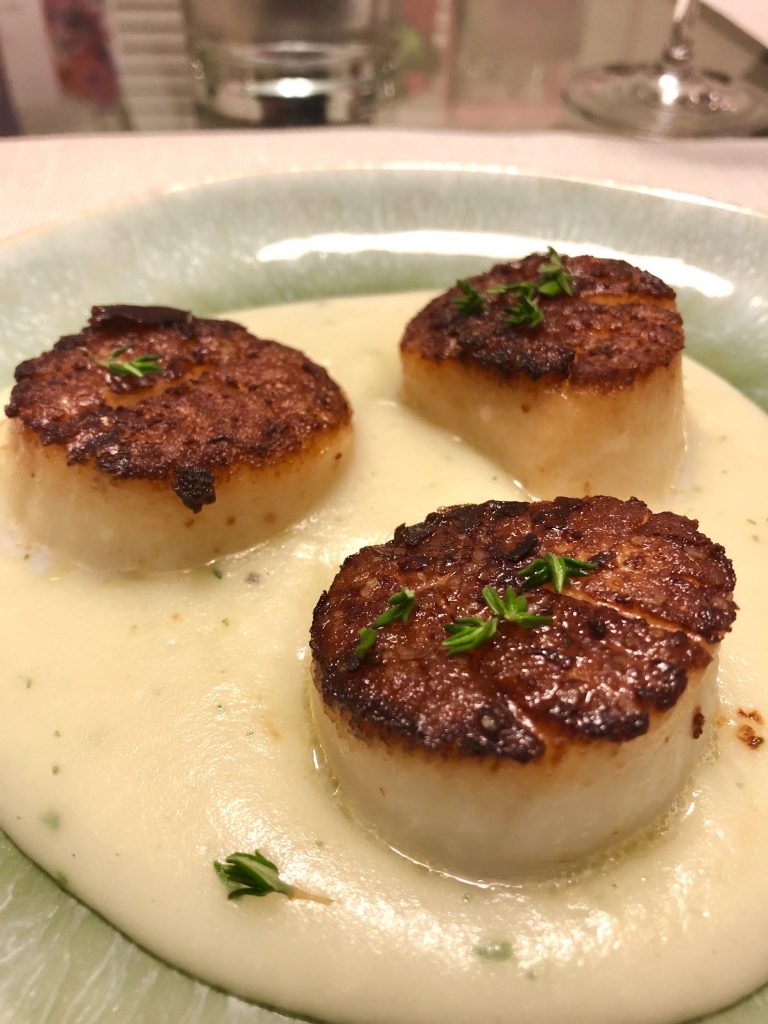 The Scallops
Bring a non-stick pan to medium-high heat. Once the pan reaches desired heat add vegetable oil (about 2-4tbsp). Season both sides of the scallops with salt and pepper and place them in the pan. I place them clockwise around the pan so I know which one went in first.
While the scallops are searing add 2 tbsp of butter, some thyme, and a garlic clove lightly mashed. Mix the butter in with the oil and baste the scallops while they finish cooking. I like to cook my scallops on one side. It creates this wonderful caramelization at the top of the scallop that elevates the taste, IMO, so I never turn the scallops until I take them out of the pan.
When the scallops are ready — they should be slightly "bouncy" to the touch and glistening-white in the center — take them out of the pan and place the on a drying sheet rack, seared side up. Let the scallops shed the extra fat from the basting while you plate.
Enjoy!